BrainSTIM conference 2020 • May 19–20, 2020
17/05/2020
The Brain Stimulation and Imaging (BrainSTIM) Conference 2020 was originally planned to be held in Finland and was moved to online format due to Covid-19 situation. In previous years the conference was held as a pre-conference of the Human Brain Mapping (OHBM) meeting and was planned as a separate international conference in 2020.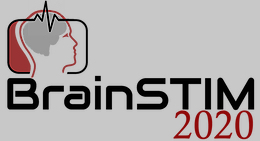 All videos of the online conference can be watched here: https://www.youtube.com/c/BrainSTIM2020
Daniel Keeser from our lab won the Young Investigator Award: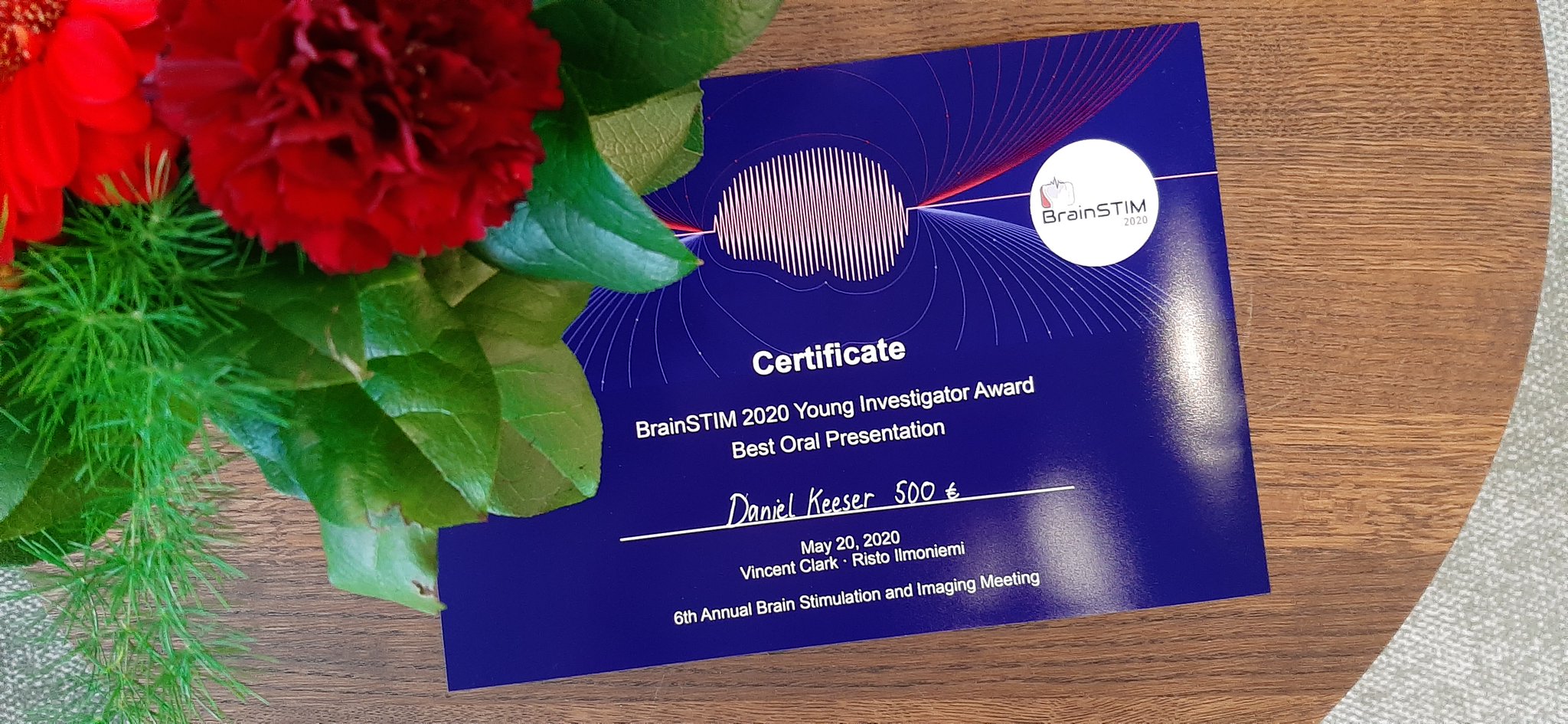 Twitter message: "The #BrainSTIM2020 Young Investigator Award (Best Oral Presentation) goes to Daniel Keeser! The jury considered that the presentation was of high scientific value and presented in an excellent way. Congratulations Daniel!" (https://twitter.com/BrainSTIM2020/status/1263148558817071105)
OHBM Annual Meeting 2020 • June 23 - July 3, 2020
27/05/2020
This year's meeting of the Organization for Human Brain Mapping (OHBM) is also taking place as an online conference. OHBM is the most well-known multimodal neuroimaging conference with thousands of participants.
Find more infos here,

DGKN conference 2020 • November 10–14, 2020
16/10/2020
- 64. Jahrestagung der deutschen Gesellschaft für Klinische Neurophysiologie und Funktionelle Bildgebung - 7th International Conference on Non-Invasive Brain Stimulation - 4th European Conference of Brain Stimulation in Psychiatry
Presentations by lab members at the DGKN Congress 2020
Eva Mezger: 10.11.2020 ePoster NIBS-Station 6: 15.05 – 15.10h
Lucia Bulubas: 10.11.2020 ePoster NIBS-Station 6: 14.30 – 14.35h
Daniel Keeser: 10.11.2020 ePoster NIBS-Station 5: 14.55 – 15.00h
Yuki Mizutani-Tiebel: 10.11.2020 ePoster NIBS-Station 17: 14.05 – 14.10h
Action Days Mental Health Research Network • 26 - 28 October 2020
15/10/2020
The action days are in German language. On Monday 26.10.2020 there will be a lecture of our working group on the topic "Neuromodulation and multimodal NeuroImaging".
webpage: https://www.forschungsnetz-psych.de/

talks (live stream): https://www.youtube.com/watch?v=wR7AMG3yBf0&feature=youtu.be

Note: in the link above you can find a talk from our working group, starting at minute 16:14
3 days of insights and outlooks: Where is the research on mental health in Munich and Augsburg, which topics, which diseases and which therapies are in focus?
Are new treatment approaches to be expected? What is the long-term perspective?
Scientists are gaining ever more precise insights into our brain, ever finer examination methods are enabling deeper insights - and at the same time raising new questions. From October 26 to 28, researchers from the region will provide answers.
DGPPN congress • November 26-28, 2020, online
28/10/2020
GCBS Symposium: S-003 Von der Neurophysiologie zur Therapie: neue Ergebnisse zu Hirnstimulationsverfahren aus dem German Center for Brain Stimulation BMBF-Verbundprojekt
webpage: https://www.dgppnkongress.de/
Chair(s)Frank Johannes Padberg, München (Germany)
Co-chair(s)Malek Bajbouj, Berlin (Germany)
Raum:Channel 8
Topic:Wissenschaftliches Programm
Topic 18: Stimulationsverfahren, internetbasierte Interventionen und andere psychiatrische Therapieformen
Format:Symposium
Dauer:60 Minuten
Nicht-invasive Hirnstimulationsverfahren (non-invasive transcranial brain stimulation - NTBS, v.a. transcranial direct current stimulation – tDCS) stellen ein sich aktuell schnell entwickelndes Feld für therapeutische Anwendungen da. Der vom Bundesministerium für Bildung und Forschung (BMBF) seit 2015 geförderte Verbund German Center for Brain Stimulation (GCBS) untersucht in diesem Zusammenhang Möglichkeiten koordinierter translationaler Forschung. In dem Symposium werden Schwerpunkte und bisherige Ergebnisse zur tDCS vorgestellt. Michael Nitsche (Dortmund) diskutiert die Übertragbarkeit von Methoden der Motorkortexstimulation auf eine für psychiatrische Anwendungen besonders relevante Stimulation des präfrontalen Kortex. Ein zentrales Problem, aber auch ein Entwicklungsfeld für optimierte und individualisierte Anwendungen ist die hohe inter-individuelle Variabilität NTBS-vermittelter Effekte. Daniel Keeser (München) berichtet vor diesem Hintergrund von aktuellen Befunden aus Untersuchungen mit multimodaler Bildgebung und MRT-basierter Modellierung tDCS-induzierter elektrischer Felder (sog. efields). Eine Stärke der tDCS ist ihre optimale Kombinierbarkeit mit Trainingsinterventionen. Christian Plewnia (Tübingen) und Malek Bajbouj (Berlin) stellen neue Ergebnisse aus kontrollierten klinischen Studien zu einem tDCS unterstützen Training kognitiver Kontrolle und einer tDCS augmentierten Gruppenpsychotherapie bei Depressionen vor. In allen Beiträgen werden aktuelle Perspektiven für die Weiterentwicklung der NTBS aufgezeigt und mit den Kongressteilnehmern diskutiert.

14:30 Uhr
Übertragbarkeit nicht-invasiver Hirnstimulation vom Motorkortex auf präfrontale Stimulation in der Psychiatrie
Michael Nitsche, Dortmund (Germany)
14:40 Uhr
Möglichkeiten einer individualisierten nicht-invasiven Hirnstimulation mittels multimodaler Bildgebung und MRT-basiertem efield Modelling
Daniel Keeser, München (Germany)
14:50 Uhr
tDCS unterstütztes Training kognitiver Kontrolle bei Depression: Ergebnisse einer klinischen Studie
Christian Plewnia, Tübingen (Germany)
15:00 Uhr
Kombination von tDCS und Psychotherapie bei Depression: Ergebnisse einer Multicenter-Studie
Malek Bajbouj, Berlin (Germany)
15:10 Uhr
Diskussion